BLINDNESS SOLUTIONS: JAWS®
The World's Most Popular Windows Screen Reader
JAWS, Job Access With Speech, is the world's most popular screen reader, developed for computer users whose vision loss prevents them from seeing screen content or navigating with a mouse. JAWS provides speech and Braille output for the most popular computer applications on your PC.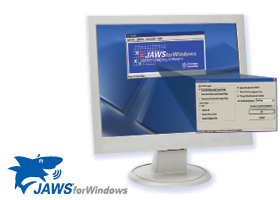 JAWS Documentation
JAWS Scripting Resources
Previous JAWS Documentation
If you want to view documentation for earlier versions of JAWS, visit the Previous JAWS for Windows Downloads page and download the appropriate JAWS version. Install this program and then look in the Help folder to find the product documentation.