RUBY 7 HD

Handheld Video Magnifier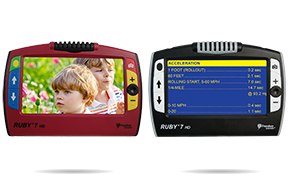 The RUBY 7 HD is the newest addition to the popular RUBY line of handheld video magnifiers. This model has a larger screen, high-definition image, and enhanced functionality to meet the needs of today's low vision consumers. The unique PivotCam™ rotating camera offers a wide range of viewing modes.
RUBY XL HD

Handheld Video Magnifier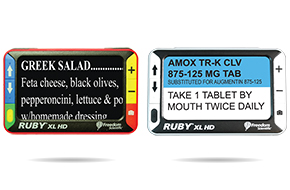 The RUBY XL HD has a larger screen and a high-definition camera for the sharpest possible image. RUBY XL HD has all the advanced features in RUBY HD, plus a built-in reading stand that holds the screen at a comfortable angle as you slide it across a page of text.
RUBY HD

Handheld Video Magnifier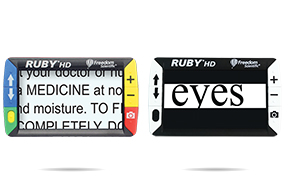 The RUBY HD brings you crystal-clear images and advanced features in a compact, lightweight body with a 4.3-inch screen. Features include 20 high-contrast color modes, Reading Lines and Masks, Freeze Frame, and the ability to store and transfer images.
RUBY

Handheld Video Magnifier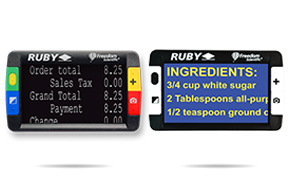 The RUBY is our smallest on-the-go video magnifier yet, with a 4.3-inch screen to magnify items from 2 to 14 times the original size. View items and read text with ease even in dark rooms with the built-in LED lighting. RUBY's slim design supports a wide range of reading needs to help you maintain your independence.