BLINDNESS SOLUTIONS:
PAC Mate Omni™
Braille and Speech Portable Computer
The PAC Mate Omni is a versatile portable computer with built-in JAWS to provide speech or Braille access to Windows® Mobile® applications for people who are blind. The PAC Mate Omni provides users with a host of productivity tools that enable them to access virtually every application that sighted users enjoy. It seamlessly synchronizes with your desktop computer to effortlessly update your email, contacts, appointments, files, tasks, and even Web favorites.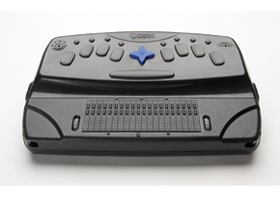 Features
Access to the Mobile versions of Windows Word®, Excel®, Outlook®, PowerPoint®, Internet Explorer®, Windows Media Player®, and more
Uses Microsoft's Direct Push technology for real-time synchronization of Inbox, Calendar, Contacts, and Tasks
Smart filtering for rapid location of email messages
Plug-and-play support for WiFi and Bluetooth® CompactFlash® cards
Built-in DAISY player including support for Learning Ally
Second language support for Eloquence voice synthesizers and Braille
Support for human-sounding RealSpeak English voices
Built-in Braille Study Mode with downloadable FSBraille Coach
More than 20 hours of battery life
Unique modular design offers 6 models:

Perkins-style Braille keyboard
QWERTY-style keyboard
Speech only or add a 20-cell or 40-cell removable Braille display
"I use the PAC Mate Omni to keep track of my daily schedule, maintain my contacts, send and receive e-mail..." "...prepare and review assignments, read books, listen to music, access the Internet, and just about everything I do..."
Kolby Garrison, a freshman at University of North Carolina at Greensboro