DEAF-BLIND SOLUTIONS
Freedom Scientific has solutions to help deaf-blind individuals communicate electronically face-to-face and over a distance. We offer two types of communication systems for independent and portable two-way conversations.
The Interpretype Deaf-Blind Communication System is a full-spectrum solution that is easy to use for communicating online and face to face. Users can communicate over a distance using the Internet, or face to face using Bluetooth®.
FaceToFace™ teams up with Bluetooth® connectivity and the PAC Mate™ Omni accessible Pocket PC to create a portable way for deaf-blind individuals to engage in real-time conversations with others - without the need for a specially-trained interpreter.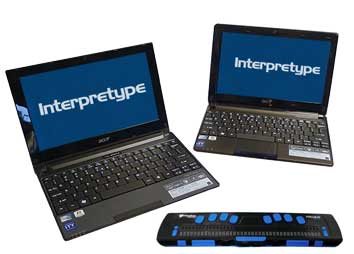 Interpretype features
Two laptops with software to communicate via Skype™, IP-Relay, SMS text messaging, instant messaging, and face to face
Includes JAWS® Professional screen-reading software and a Focus 40 Blue Braille Display on one laptop
Save contacts, buddy lists, and IP-Relay information for future use
Connect to the Internet using the included WiFi or Ethernet connection
Talk face to face using Bluetooth
Take full advantage of computing tasks such as emailing, Internet browsing, and more
For more information, please visit the Interpretype Web site.
Please call 585-272-1155 or e-mail info@interpretype.com for all pricing, ordering, and information.
FaceToFace features
Initiate one-on-one conversations on your PAC Mate Omni with sighted parties in the same room who have a Bluetooth-capable PC or PDA
Send messages with the PAC Mate Omni's QWERTY or Perkins-style keyboard
Read responses through the Braille display
Save conversations to a text file
Paste text from Address and Contact files into FaceToFace conversations