SUCCESS STORIES
JAWS®
JAWS 20th Anniversary Video
JAWS users around the world sent us videos about the impact JAWS has made on their lives. We compiled these testimonials and more in a video to celebrate the 20th anniversary of JAWS for Windows.
"I always come back to JAWS. In truth, I never left it."
"In the early 90s, one of my jobs was to use as many screen readers as I could get my hands on, and learn their strengths and weaknesses. I now was in Windows 3.1, trying to get my arms around a graphical interface that was totally different from what I had come to know. It was hard to keep the many and varied keystrokes of 4 or 5 different screen readers so embedded in my mind that I could use each screen reader seamlessly. However, one screen reader seemed to fit easily in my fingers and in my mind. And that is how JAWS became my screen reader of choice. It just worked in a way that was so very intuitive and so effective in opening up the world of written words, not to mention so many daily tasks.
We have come a long way, and I have tried to keep up with other similar products on the market. Somehow, I always come back to JAWS. In truth, I have never left it.
I do have to marvel at how, through the years, JAWS has not only kept up with each operating system that comes along, but as well with a host of different applications that people need to use to be productive members of society. That, in and of itself, speaks volumes. I look at how successful I have been in my work as an accessibility consultant, a musician, a recording engineer, and a narrator of commercials and other formats. The one common framework in my work environment that has given me the ability to accomplish this is JAWS. I am successful in my professions of choice largely thanks to Freedom Scientific and all the gifted people on the JAWS beta team on which I am honored to be a member."
Neal, Wisconsin
President of The Seeing Eye Stayed with JAWS Through His Career
"I began using JAWS with version 3.1 or 3.3 while still at AT&T Bell Laboratories. JAWS and my career advanced together as I progressed across increasing responsibilities in a 28-year career in the telecommunications industry, then to my current role for the past 8 years as President and CEO of The Seeing Eye. As my career advanced, so did technology, going from Windows 95 to 98 to XP and finally to Windows 7. During that time, JAWS moved from 3.3 to today's JAWS 16. JAWS has always been an important part of my professional success. It's been a great trip, and it isn't over yet."
Jim Kutsch, President and CEO of The Seeing Eye
JAWS Scripting Changed the World for Visually Impaired Users
"I started with JAWS for Windows 1.03. At the time I was working in Australia. I started to learn scripting and created a script for WordPerfect and GroupWise. At that time they took scripting way beyond what anyone ever had thought of and produced the first version of Word and Excel using the DOM, which changed the experience for visually impaired users. No other screen reader on the market had done this at the time.
There are some real amazing people at Freedom Scientific who are still there and some have moved on. My hat goes off to them."
Sean
He Became Successful Systems Administrator with JAWS
"I started with JAWS 2.0 after briefly toying with some of the other early Windows screen readers, none of which enticed me to move away from DOS. JAWS allowed me to finally properly understand how Windows worked, and to gain decent access to it, and a number of third-party applications.
Without JAWS I would never have been able to complete my IT degree, and become the successful system administrator I am today, so, thanks Freedom Scientific, and here's looking forward to the next 20 years."
Aaron, Australia
JAWS User since Version 1 Would Not Change a Moment
"My time with JAWS goes way back to version 1 (I still have the 3.5 floppy activation disks). I have experienced over the years many changes to Windows, and Windows-based applications. However JAWS has remained vigilant in the quest to make these applications accessible, and not to have a special page or application just for blind people. All the years seem to have flown by, however I would not, if it was possible, change any moment."
Dennis
Colombian Psychologist Thanks JAWS for 20 Years
"Although I have spent most of my professional life as a clinical psychologist treating patients with anxiety, when Windows was released, I was very afraid to leave DOS. After many trepidations and doubts, I decided to give it a try. Thanks to Eric's and Dan's tapes, I quickly mastered JAWS and Windows. This was in the summer of 1998, when JAWS for Windows 3.2 was released. JAWS has played a very important role in my success as a clinical psychologist and as an university professor. I want to congratulate and thank Freedom Scientific for this wonderful product."
Luis, Colombia
JAWS User Translated JAWS into Swedish
"I'm visually impaired from birth, and could see a little and use my eye (only one) to September 2002, when my eye breaks down. My first contact with JAWS was in 1996, when I started to use Windows 95.
My first JAWS was version 2.0, not translated into Swedish. I get interested about how to translate it into Swedish. So I was one of the first translators of JAWS here in Sweden. Since 2005, I work here in Sweden with translating Freedom Scientific products.
I often say that translating and using JAWS is not a work, it is a way to live. Today, I cannot think how to live without using JAWS."
Håkan, Sweden
The Voice of Early JAWS Tutorials Still Loves It!
"I started using JAWS with Windows 3.1. I'm not sure of the version...it is all a blur! I was the voice of several JAWS tutorials including JAWS and Excel, JAWS and WordPerfect, and the first audio training material for the PAC Mate. When I do conference presentations I still have people come up to me and tell me that they learned how to use the PAC Mate with my "voice."
I write books and how-to guides on accessible PDF, Word, and PowerPoint. I depend on JAWS to be able to continue doing this. As a Microsoft MVP for Word, I also test the limits of the new versions of Office as they become available. I often tell people I live on the bleeding edge of technology.
I can't believe I've been using JAWS for so long!"
Karen
He Attributes His Success to Freedom Scientific's Accessibility Tools
"I'm old enough to remember the world before screen readers, and it was tough. Roll the tape ahead...I got to JAWS in the late 90s when NASA was migrating everything to Windows. For a while, it sure looked like I was going to be left behind, but then JAWS for Windows 3.x appeared on the scene, and all my ideas about accessibility got stood on their ear. Moving to JAWS and Windows 98 was a quantum leap in functionality.
I have always been impressed at the emphasis which Freedom Scientific places on supporting the working blind. Freedom Scientific has always made it a priority to look forward. I know dozens of people in jobs ranging from NASA to Google, myself included, whose success is directly attributable to the fact that Freedom Scientific chose to support the tools they need to do their jobs."
Robert
JAWS Opened Doors for Blind Hotel Employee
"I went to work for a major hotel chain in 2000, first as a reservation clerk. In 2002, I began working with JAWS in a support role. I made sure that our reservation system worked with JAWS. I didn't program but I did test and I did do some training. Over the years as my interest in radio and singing increased, I found it necessary to use JAWS in all kinds of third-party applications. I do so to this day.
Those of you who use JAWS understand, but I am not sure how many sighted people would or could grasp how incredibly satisfying it is to be able to read articles, scan books, and to just have the freedom to do what our sighted friends take for granted. To have the flexibility to do what we want, and when we want to do it, is such a wonderful feeling.
The wonderful folks at Freedom Scientific have opened up many doors to me and to thousands of others with JAWS. It is the most versatile screen reader on the market. Whenever I had an issue at work with JAWS working with another application, I would pick up the phone or send an email. A solution was always found and the issue was fixed. Thank you all at Freedom Scientific for 20 glorious years. You have made the lives of so many people so much better because of what you do for the many users of your products in general and JAWS in particular."
Larry
Lawyer in India Credits JAWS with a Huge Share of His Success
"I just wanted to convey my sentiments attached to JAWS and its importance in my life. You started in the days when there was no widespread information about anything called as screen reader, when technology was foreign to millions of us, when developers did not know that technology should be accessible to people with disabilities. That in itself is historic. If today people with blindness are using computers worldwide, then a very big credit goes to the invention of JAWS and the effort which Freedom Scientific took to develop and market it within the limited resources which it had.
I live in a region in India where even today achieving a dignified life for a disabled person remains a huge challenge. When I started with the demo of JAWS 3.7, at that time learning English in the blind school of a remote city like Jodhpur (Rajasthan, India) never interested us.
I completed my law by giving exams using computer and JAWS with the official permission of University of Mumbai, and I am working as a lawyer. A huge share of where I am today goes to JAWS and OCR software (OpenBook with PEARL Camera)."
Amar, India
JAWS User Formed His Own Company around JAWS
"I first began using JAWS at version 3.0. My whole career and life is centred around JAWS. I use JAWS, but for the past 12 years I've also created products based upon it, and now, I've formed my own company, principally to support JAWS and those products. If it wasn't for JAWS, my life would be very, very different. Thanks, Freedom Scientific!"
Brian, Wales
JAWS User Does Internet Radio Shows
"I began using JAWS for Windows with the 3.0 version in 1996 or so. I used it at home doing my local radio show and more recently doing my Internet radio shows with my brother Larry. I have also used it professionally when I worked for Braille Institute, and of course to this day at Disney Travel, where I book vacation packages and train new JAWS users with the reservation system. I have also used Tandem to help new friends who are learning JAWS as well as computers in general. Freedom Scientific has made it all possible with JAWS. Thank you!"
John
Blind Employee Became Windows Expert for Sighted Colleagues, Thanks to JAWS
"I first started using JAWS for Windows in the 90s. When my employer moved everyone to Windows, I needed to figure out how I would interact with a Windows-based system. After trying 3 or 4 screen readers for Windows, I nearly gave up. I finally came across JAWS and was delighted that it just worked without any problems! Soon my sighted colleagues who were also struggling with the transition from MS-DOS to Windows were coming to me for help in figuring out how certain tasks could be performed in Windows and I became the go to guy for questions about Windows.
Now retired, I continue to use JAWS daily for the usual tasks people use computers for, write programs, manage websites, and co-host and produce the Eyes On Success radio show / podcast with my wife Nancy. Thanks to Freedom Scientific for its commitment to developing a robust, reliable, and flexible solution to accessing PCs that continues to adapt to new and changing technologies and UI paradigms."
Pete
JAWS Still the Best
"I remember using JAWS 2.0! It's so wonderful to look at all the changes that have taken place since then. Keep up the good work!"
Hope
JAWS Helps User with Job in Computers
"With JAWS, I've retained employment in an IT role for the past 11 years. Before that I completed a degree in computer science with the help of JAWS. Like a lot of people I learned by listening to the tapes. I began using JAWS with Windows 3.1, and I've been using it ever since."
Darragh
JAWS Makes Windows a World He Can Live In
"When I switched from DOS to Windows in 1999, at that time, Windows seemed to be a world to me I couldn't live in. I always have and always will appreciate all that JAWS can do for me! Congratulations and thanks for the great work that has been done over the years."
Horst
Students and Staff All Use JAWS
"I was first exposed to JAWS for Windows at the South Carolina School for the Deaf and the Blind. I saw countless staff members who used JAWS to do their daily jobs. Thank you Freedom Scientific for 20 years of assistive technology for the blind and visually impaired."
Robert
JAWS Inspired Career as a Visual Access Technical Trainer
"My JAWS experience has been outstanding! In June 2008 ... I heard the following words, 'JAWS for Windows is ready!' Honestly, JAWS was my first step to independence! In 2005, I lost my sight to a pituitary tumor. I became a man without a vision to see or dream. I would awake each day with the same question 'Can I continue my Information Technology career?' After my first initial JAWS experience, I was provided an answer. JAWS gave me the ability to independently use a computer. I was able to write letters, search the Internet, send e-mails, and even write HTML scripts!
Just to be totally honest, I fell in love with JAWS and set a new career goal. I wanted to introduce JAWS to everyone who lives with a visual disability. I created my own visual aide technical training business to help accomplish my goal. Advance Technology Service Community is my business name. Also, I felt that I needed to learn about all capabilities of JAWS before I could help anyone, so I enrolled in a JAWS training seminar at Freedom Scientific. During my training seminar, I received daily user-friendly instructions to fully maximize all JAWS capabilities. I was introduce to capabilities of MAGIC (screen magnification software) and OpenBook (scanning and reading software), as well. After my training seminar was complete, I still had one remaining question about JAWS: How far can JAWS take me? So far, JAWS has allowed me to receive a service contract with the Georgia Department of Vocational Rehabilitation, but my JAWS journey is not complete."
Timothy, Georgia
ONYX® HD Video Magnifiers
Nine-Year-Old Says Thanks for ONYX Deskset HD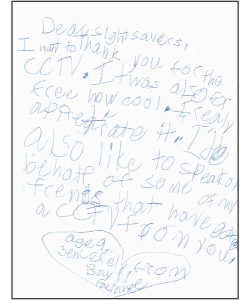 Baylie is a nine-year-old that was the recipient of an ONYX Deskset HD Portable Video Magnifier, through the I Can See Now program developed by Sight Savers America, an organization that VFO is proud to partner with.
Dear Sight Savers,

I want to thank you for the CCTV. It was also for free - how cool. I really appreciate it. I do also like to speak on behalf of some of my friends that have gotten a CCTV from you.

Age 9

Sincerely from,
Baylie

Here is a pic of something that you might like.
TOPAZ®
Mom's TOPAZ is a Life Saver
Kathy from Illinois recently purchased a TOPAZ for her mother. She writes, "I just wanted to e-mail you to say thank you once again for helping me get my Mom set up with the TOPAZ. She uses it all the time and it is a life saver! She is able to write out bills and read her mail. It allows her to be self-sufficient in ways that would not be possible otherwise. It allows her to feel useful and that makes me smile. She has been through a lot in her life and this is a great reward for her!"
FOCUS 40 BLUE
Focus 40 Blue is a Lifesaver for Blind-Deaf Man
"As a totally blind and hearing impaired person, I had no more possibility to overcome social isolation but to acquire a computer with a Braille display. So I've bought the Focus 40 Blue display, and I cannot help saying (and I say it without a slightest exaggeration) that, thanks to my Focus 40 Blue, I feel as though I was to be killed but then was somehow saved. My fantastic display makes it possible not only to read, or to browse the Internet, not only to use e-mail and many other applications - I can also maintain and develop my intellectual and spiritual levels, I can create serious articles which are willingly published by magazines and allow me to be a useful member of community. Thank you very much dear Freedom Scientific team. I do not imagine something might be designed better than this Focus 40 Blue! You have given me back my life. Please take my sincerest and best wishes!"
Hamzat Tsurov, Astrahan, Russian Federation
SARA CE
SARA CE™ Keeps Blind-Hearing Impaired 80-year-old Home and Independent
"Nearly deaf for years, but highly computer literate and happily maintaining his entire household in his late 80s, my father-in-law very suddenly became blind as well," writes P.R. Getson. "Bills piled up and tasks went undone; taxes needed filing by others, and all privacy regarding correspondence was lost or responses ignored. He had no way to be reliably contacted about important matters without an on-site interpreter. Computer and screen adaptations were of no value, and his children live at far distance from him.
"How to prevent this unexpected double sensory disability from forcing him out of his house and leaving his prior independence and well-organized life behind? We struggled to find a solution for a year. Enter Freedom Scientific and the astonishing SARA CE which he can now use with his favorite headphones! We arranged for him to be introduced to the machine and expected a steep learning curve, but he understood functions, commands and overall capabilities within only minutes ... his largest grin in a year occurred when he could once again "read" his utility bill! The company representative provided calm, capable and extraordinary service to be certain a new machine could be made available and set up while we visited over a holiday. His manner indicated personal care for and involvement with all of his clients.
"Freedom Scientific has top design, engineering, myriad combinations of hard and software choices, as well as exceptional overall representation, training and service. No one could ask for more."
P.R. Getson
EYE-PAL SOLO
Eye-Pal SOLO Easy to Set Up, Powerful to Use
"Setting up the Eye-Pal SOLO couldn't have been easier. When I powered up the unit, a voice instructed me to 'place your document.' After a couple of audible clicks and about 10 seconds, the voice began reading the page. This incredibly simple scanning appliance is truly a marvelous machine. Now, at long last, I can quickly sort my own mail, deciding what to throw away and what to keep, what to read immediately and what to read later with sighted assistance. The independence the Eye-Pal Solo gives me is worth the investment."
Steven Dresser
TRAINING
New Ideas for Teaching
"I have enjoyed the Surfing the Web Webinar and find that it gives me new ideas for teaching the Internet to students who are blind or have low vision. In addition, I have learned a few tricks that I did not know, such as custom labels to make a form more accessible. It was such fun that I interrupted a group of people in my office as I said an "all right!" after easily completing my first label. The Webinars help me because I enjoy hearing someone present the information. I know that the information is all found in the Surfs Up material, but it isn't the same as hearing the tricks that you have discovered as a longtime trainer. Not only have I shared the information by presenting what I learn to my students, I have also shared a few of the archive links to those I thought could benefit.
"Access to the archives is important because I am not always able to attend the session or the entire session, and I have been able to keep up with the course when I have free time. In addition, it is there if I need to check my notes on a particular topic."
Sherry Goldsmith, Assistive Computer Technology Specialist - San Marcos, California
JAWS Training Bundle Helps Program Manager Return to Work
"The JAWS for Windows Training Bundle is perfect for my situation! Once I accepted my new visual challenge, I began looking for training to re-acclimate me to the computer, but I couldn't find anything to meet my needs to facilitate my return to work. From my brief experience, it is my genuine belief that the JAWS for Windows Training Bundle will be the single most significant factor contributing to my successful integration to work."
Hunter E. Matthews, Weapon System Program Manager, DLA Avaition, Richmond, Virginia
JAWS Training Tools Help User
"I learned JAWS from the training tapes. Dan Clark's presentations were incredibly helpful. The other tool that I used to learn JAWS was Jonathan Mosen's Main Menu tutorials. I owe my knowledge of Windows and JAWS to Jonathan and Dan."
Bruce
JAWS Training Helped User Understand Windows Concepts
"I began to use JAWS around 1990. I learned the basics by listening to those tapes while working in my kitchen. The concept of using the number pad made so much sense to me. There were macros which could be constructed to make JAWS do just about anything. In 1995 I was introduced to the Windows version of JAWS at a GUI conference in Northern California. After that training, I really understood Windows 3.1 concepts. I was then able to teach consumers to use JAWS, and over the years, various versions of Windows, and mainstream applications. Although I am now retired, I constantly use JAWS for my own needs on a daily basis."
Myrna
Workshop on Web Page Testing with JAWS Helps Web Development Team
"I attended the Web Page Testing with JAWS class in Los Angeles. It was very informative and was delivered in a practical and easy to follow manner. I was very excited when I returned to the office the next day and was able to take two activities that I specifically learned in your class, and apply them real-time in my work environment! It allowed me to better assist one of our web tool development teams understand where and how they needed to add accessibility. I look forward to attending future sessions that you offer. Freedom Scientific is my go-to source for AT knowledge and skills!"
Morgan
Submit your own user story!